This week, we took our 4/5 Village to the Warriparinga Wetlands for a Living Kaurna tour and workshop.  Here's the website info Living Kaurna Cultural Centre.  For those of you not local to the Adelaide region, the Kaurna people are the traditional Indigenous owners of the Adelaide plains.
We organised the tour as part of our work that we're doing this term on Pope Francis' Laudato Si – On Care of our Common Home.
We integrated this learning with the history and culture of the Kaurna people, poetry and photography.  It was absolutely brilliant!  The weather was a bit drizzly, but nobody melted and it wasn't cold.  Our tour guide was brilliant – his passion and knowledge of his culture was contagious, and even some of our more reluctant learners were enthralled.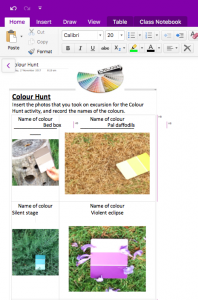 As well as the guided tour, we had a booklet of activities for the students to do, and we took along iPad minis for photography purposes.  My favourite activity by far (aside from the actualtour) was the colour-chip photography.  Learners worked in pairs to find natural items that matched their colour chips as closely as possible, and then photographed them together.  The next day, they uploaded their photos into their OneNotes, and then used the colour-chip names as inspiration in their poetry.
A great day out, and we can recommend it to anyone in the Southern Adelaide region.