I'm just a little bit excited.  Ok, I'll admit it – I may have danced around in front of the computer and fist bumped the air.  Did a little flossing – maybe!  I'm super thrilled to announce that I've been accepted into the Microsoft Innovative Educator Expert program for 2018-19!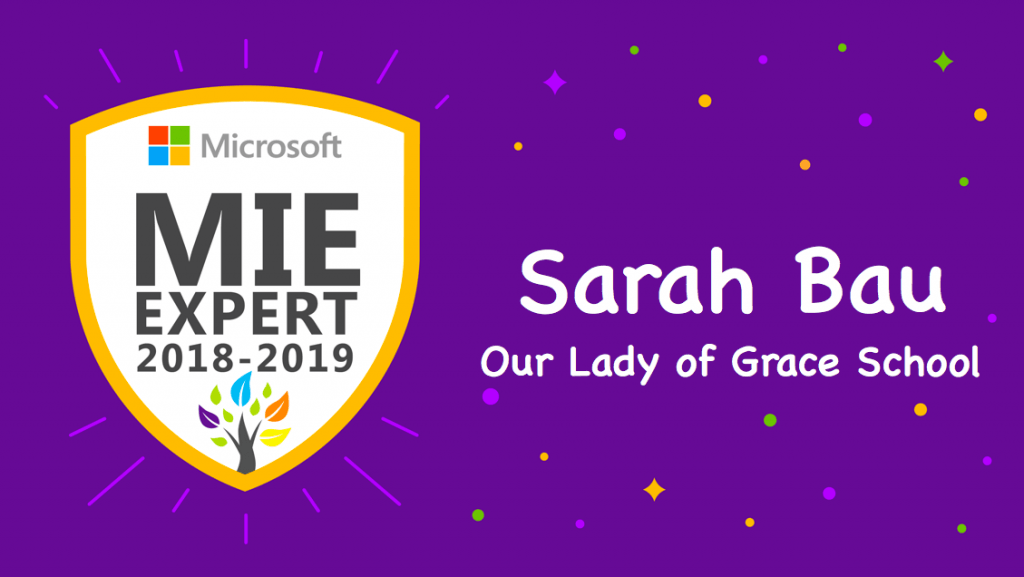 Here's the offical press release below.  What does this mean for me?  More growth, more development, more innovation, more community, more connection, more learning, more sharing, more facilitating, and (if possible) more passion for what I do. Let the new adventure begin!
Sarah Bau from Our Lady of Grace School Selected as Microsoft Innovative Educator (MIE) Expert
Recognised as global leader in using technology to transform education
August 1st – Adelaide – Our Lady of Grace – Glengowrie
Sarah Bau was announced today as a Microsoft Innovative Educator (MIE) Expert joining the more than 7,600 educators in the MIE Expert program worldwide. Each year, Microsoft selects innovative educators to share ideas, try new approaches and learn from each other as a global community dedicated to improving student outcomes through technology.
Mrs Bau, Year 4/5 Educator and Key ICT Teacher at Our Lady of Grace School, within the Catholic Education sector of South Australia, stated that she is,
"…excited and proud to have been named a Microsoft Innovative Educator Expert.  I can't wait to begin learning with my new international community of highly skilled and enthusiastic educators.  I'm looking forward to sharing my knowledge and experience both within Our Lady of Grace School, and the wider community."
As an MIE Expert, educators build their capacity for using technology in both the classroom and curriculum to improve student learning, advise Microsoft and educational institutions on how to integrate technology in pedagogically sound ways and be an advocate at conferences, events and trainings for how Microsoft technology can improve learning.
"Microsoft Innovative Educator Experts are inspiring examples of educators applying new ways of teaching and learning in their classrooms that motivate students and empower them to achieve more," said Anthony Salcito, Vice President, Worldwide Education, Microsoft. "We celebrate and support the work they do every day!"
To learn more about the MIE Expert program, you can find out more here: http://aka.ms/mieexpert. If you are an educator and interested in joining the MIE program, you can begin by joining the Microsoft Educator Community, where you can learn and grow professionally, exchange ideas and learn from others, and make connections globally and earn recognition.