Feeling overwhelmed at the mere thought of trying to use Minecraft Education Edition with your students?  I'm guessing that this is because your students know so much more about how to play it than you do?  Never fear – just strap on a growth mindset, be prepared to learn from your students, and dive straight in!
Minecraft Education Edition is a new adventure for me.  I'm currently heading up a team at my school where we are taking part in a Catholic Ed SA project for using Minecraft Education Edition through a religious lens, with the aim of teaching sustainability. But, before we could get to a religious perspective, we had to up the Minecraft skills of our students, and get them used to the idea that this was learning, not just play!
Needless to say, they were beside themselves with excitement.  I've been teaching the same group of learners for a couple of years now, and they have an excellent growth mindset (particularly when it comes to digitech!) and love to be my guinea pigs.  To begin with, we got all students participating in the project (all Year 3, 4 and 5 learners – around 100 students) together and we established our agreed practices.  The teaching team felt that this was important, to separate learning from playing, right from the beginning.  Here is a copy of what we came up with.
The agreed practices has been invaluable – there has been absolutely no confusion about which worlds students need to reserve for learning, and which ones they can use during inside play (for example due to bad weather).
Side note: the Big 5 is a school-wide code of conduct, and consists of:
Be Christlike
Be Brave
Be Supportive
Be Respectful
Be Safe
So anyway, to keep the learners focused on the fact that we were undertaking learning tasks, I did what I do best – I created a lesson in Class OneNote and distributed it to my Year 4-5 learners.  There's nothing like clear Learning Intentions to remind students that we are learning, not just playing!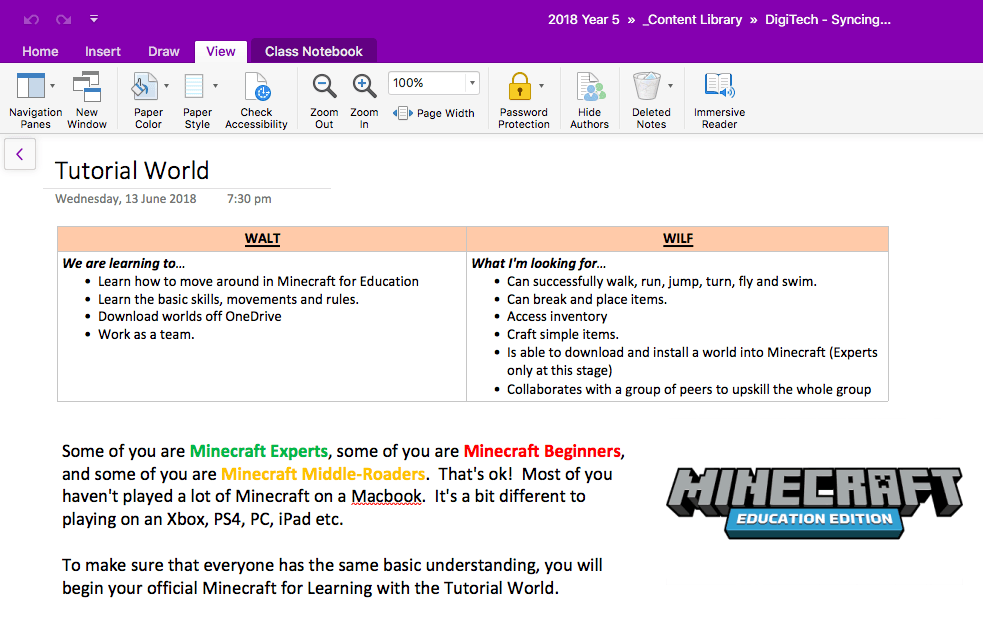 The first hurdle I had to overcome was – how do I teach 66 learners all at once?  Turns out that I didn't have to – I had a significant number of Minecraft Experts on my hands!  I had all of the learners self-nominate their level of expertise, and then put themselves into groups of the following;
1 Minecraft Expert
1-2 Minecraft Middle-Roaders
1-2 Minecraft Beginners.
One of my favourite aspects of this – is that the children that were Minecraft Experts, are not necessarily the usual leaders in my Village – giving a whole new level of respect to students who don't always get to shine.
We strongly discourage (read don't allow) learners to download anything off the internet.  So, in order for learners to have access to the Minecraft worlds that I want them to use, I created a shared folder in OneDrive.  Only one student from each group needs to download the world, and then the other members of that group can join up.  I went through the instructions step-by-step, but also included a screenshot and instructions in OneNote so that learners could remember how it's done.
The groups of students then worked together to build expertise and get through all of the levels.  There was a huge buzz in the room, and seeing such diverse groupings of learners encouraging and supporting each other warmed my teacher heart.
All of the worlds that I'm using come straight off the Minecraft Education Edition website – a fantastic resource for Educators like me – willing, but not necessarily brilliant at using Minecraft.  All of the work is done for you!
What did I take away from this lesson?  That my learners continually surprise me and that they have more patience and persistence than I sometimes give them credit for.  I learned that I don't have to be an expert at a technology in order to use it with students, I just have to set clear Learning Intentions, and the learners will do the rest.
Oh, and I also learned that my students love it when I bumble around with them – they really enjoy teaching me tips and tricks!  Go on – give it a go!